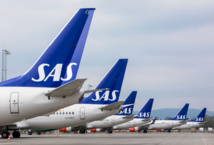 "Given the current restrictions, SAS expects limited activity in the important summer season. In addition, it will most likely take some years before demand returns to the levels seen before Covid-19," chief executive Rickard Gustafson said in a statement.
"Covid-19 has forced SAS to face a new and unprecedented reality that will reverberate not only in the coming months, but also during the coming years," he added.
The envisaged cuts would translate into about 1,900 positions in Sweden, 1,300 in Norway and 1,700 in Denmark. The airline had about 10,300 employees at the end of January.
The average notice period was six months, according to SAS.
The airline planned to open talks with unions and other stakeholders on the possible redundancies in line with labour law practices in each country. The aim was to "reduce the number of actual layoffs."
Gustafson told Swedish broadcaster SVT the airline hoped to access credit offered by the Danish and Swedish governments, noting that the European Commission approved that move only last week.
The governments of Denmark and Sweden - who jointly own a third of SAS - said in March they would offer SAS a credit guarantee of 3 billion kronor (300 million dollars), citing the airline's key transport role.