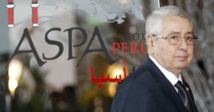 Bouteflika stepped down last week after pressure from the powerful military and nationwide protests against his 20-year rule. His fourth term was due to end on April 28.
The parliament voted to declare the vacancy of the president's post and appointed Bensalah, 76, to run Algeria for a 90-day transitional period, in line with the North African country's constitution.
Naming an interim president allows the country to organize elections.
But Bensalah, who cannot run in the elections, does not have the support of Algeria's opposition parties, which boycotted Tuesday's session in parliament.
The protesters who staged the mass rallies are also unsatisfied with the pick, as Bensalah is seen as close to the Bouteflika political establishment they sought to oust.
If Bensalah were to resign as interim president, then Constitutional Council chair Tayeb Belaiz, who is also not preferred by the protest movement, will replace him.
In March, Bouteflika yielded to the demands of protesters and renounced his bid for a fifth term in office and indefinitely postponed the presidential polls, originally scheduled for April 18.
That failed to appease protesters, who saw the moves as a trick to prolong his term in office. As protests continued, Algeria's military joined the calls for Bouteflika's departure, which ultimately led to his resignation on April 2.
Bouteflika had been in power since 1999. He suffered a stroke in 2013 and has rarely been seen in public since then.
Notepad