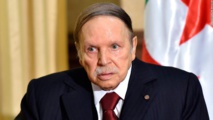 "Abdelaziz Bouteflika has officially notified the president of the Constitutional Council of his decision to end his term as President of the Republic," the state news agency APS reported late Tuesday, quoting a presidential source.
Thousands of Algerians have taken to the streets in the North African country in recent weeks to demand Bouteflika's departure and radical changes to Algeria's political system.
Bouteflika, who has been in power since 1999, suffered a stroke in 2013 and has rarely been seen in public since. His current term - his fourth - was due to end on April 28.
In March, Bouteflika yielded to the demands of protesters and renounced his bid for a fifth term in office. But he also announced an unspecified transitional period and postponement of the presidential polls, originally scheduled for April 18. The oppositions saw the move as a trick to prolong his rule, and the protests continued.
Bouteflika's resignation comes hours after Gaid Saleh, Algeria's military chief of staff, called for constitutional procedures to be taken immediately to declare Bouteflika unfit to rule.
"There is no room for wasting more time, and a constitutional solution mentioned in the articles 7, 8 and 102 should be applied," Saleh said in a Defence Ministry statement issued after a meeting with army leaders.
Algerian opposition parties also demanded on Tuesday that Bouteflika immediately step down.
On Monday, a statement released by the Algerian presidency said that Bouteflika would step down before April 28. But Saleh rejected the statement on Tuesday, saying it was issued by "unconstitutional and unauthorized bodies."
"Our decision is obvious and irreversible; we stand by the people until their demands are fully met," he said. "I can do nothing but take the sides of the people."