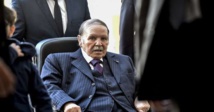 Bouteflika
The officials include Abdelmalek Sellal and Ahmed Ouyahia, who served as prime ministers under Bouteflika, according to a statement issued by the prosecutor's office that gave no further details.
The investigations are related to their involvement in allegedly unlawful transactions and abuse of power, according to media reports.
Last month, Bouteflika resigned after weeks of nationwide protests and under pressure from the powerful military.
Algeria has since launched a crackdown against senior officials and businessmen who were close to Bouteflika over charges of involvement in corruption cases.
Earlier this month, three key allies of Bouteflika, including his younger brother Said and two ex-intelligence chiefs, were arrested.
Bouteflika, now aged 82, ruled the energy-rich North African country for 20 years.
His reign is widely believed to have been dominated by cronyism and mismanagement.
Notepad