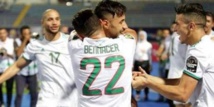 Conveys of cars sounding their horns and fireworks went on long into the early hours of Saturday, the news agency AFP reported, with parties in Toulouse, Strasburg and Marseille, where police estimated 25,000 fans took part in mostly peaceful celebrations.
There were few disturbances including on the Champs-Elysees in Paris where police dispersed hooligans with tear gas.
Fears of a repeat of the trouble which followed Algeria's semi-final win last Sunday, on France's national day, proved largely unfounded. Interior minister Christophe Castaner said around 300 people had previously been arrested and a woman died after being hit by a car driven by a celebrating fan after the quarter-finals.
Algeria won the Cairo final 1-0 thanks to an early deflected goal from Baghdad Bounedjah which gave them the continental crown for the second time after 1990.