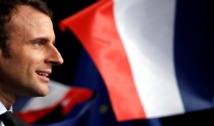 Macron pledged French support for Irish efforts to minimize disruption on the border between the Republic of Ireland and British-controlled Northern Ireland after Britain leaves the EU.
"It is an essential issue for Ireland but it is also a subject of constant attention for the European Union," Macron said.
"The gains of the Good Friday Agreement must be fully preserved," the French president added, referring to the peace agreement that ended decades of conflict in Northern Ireland over whether the region should be part of Ireland or Britain.
Dublin is concerned that a return to a heavily-secured border after Brexit would anger Irish nationalists and heighten risks of renewed trouble, as well as impeding cross-border commerce.
Macron said he was "delighted" to have been told by Varadkar that Ireland, whose main language is English, intended to join the Francophonie association of mainly French-speaking states.
The Irish leader, speaking at first in French, said his country "will remain at the heart of the European Union while our closest neighbour, the United Kingdom, leaves it."
"And I promise to improve my French before Ireland joins La Francophonie," he added.
The two men appeared on warm terms but acknowledged that they remained at odds on taxation policy, with Macron pushing for European moves to harmonize corporate tax rates, especially for digital firms.
Notepad