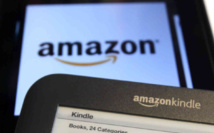 In a letter to shareholders, Amazon boss Jeff Bezos said that the premium service shipped more than 5 billion items worldwide last year.
Prime, which was launched 13 years ago, offers members free and faster delivery for a monthly or annual subscription fee as well as access to online videos and music.
Bezos said more new members joined last year than in any previous year both worldwide and in the United States.
That growth had already been reflected in Amazon's fourth quarter results, which showed Amazon with revenue from Prime membership of 3.2 billion dollars, up 49 per cent from a year earlier.
Notepad