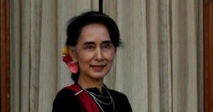 The rights group said she had "actively shielded the military from international scrutiny and accountability."
The letter noted that Suu Kyi was given the human rights award nine years ago, when she was still under house arrest for her pro-democracy work.
"We are profoundly dismayed that you no longer represent a symbol of hope, courage and the undying defence of human rights," it said.
Suu Kyi was once a celebrated Nobel Peace Prize laureate, but her failure to condemn the brutal crackdown by Myanmar security forces and Buddhist mobs on the Rohingya minority has seen her widely condemned around the world.
She has seen several major organizations rescind their awards, including the high-profile US Holocaust Memorial Museum's Elie Weisel Award.
A UN fact-finding mission to Myanmar said the military had committed crimes against humanity, including murder, rape, torture, enslavement, violence against children and destruction of whole villages.
It said in its August report that there is evidence of genocide in Rakhine state, where hundreds of thousands of Rohingya Muslims were driven away over the course of a year.
The UN experts also singled out Suu Kyi for failing to use her "moral authority" to prevent the campaign of atrocities.