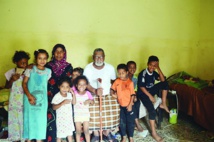 A Saudi-led alliance has been fighting Houthi rebels over the control of Hodeida, one of Yemen's main gateways for shipments and imports of relief supplies and other commercial goods.
Amnesty interviewed people in the southern city of Aden after they fled clashes in Hodeida province between January and early May.
"The human impact of this fresh military offensive on Yemen's western coastal areas is clear in the distressing stories shared by civilians displaced by the conflict," said Rawya Rageh, senior crisis response adviser at Amnesty.
"It is a glimpse of what potentially lies in store on a wider scale if the fighting encroaches on the densely populated port city of Hodeidah," Rageh added.
According to the United Nations, clashes along Yemen's western coast have displaced around 100,000 people in recent months, most of them from Hodeida, the London-based group said.
Civilians spoke of "terrifying mortar attacks, air strikes, landmines and other dangers amid the new offensive," launched by the coalition in December.
One woman said the Houthis had forcibly recruited men and boys, including her 13-year-old brother. Other survivors said coalition airstrikes had killed civilians, leaving them in constant fear for their lives.
Saudi Arabia and allies launched the campaign against the Houthis in 2015, as the rebels took over the capital and started advancing to the south.