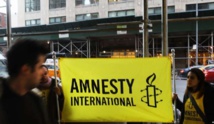 Arif Wazir, a leader of the Pashtun Tahafuz Movement (PTM), died in Islamabad on Saturday, a day after being attacked by unidentified assailants in the north-western province of Khyber Pakhtunkhwa.
Amnesty urged Pakistani authorities to "carry out an independent and effective investigation" into the attack.
"The suspected perpetrators must be held accountable," the international rights group tweeted.
Millions of Pashtuns live in the region formally known as the Federally Administered Tribal Areas (FATA) near the Afghan border. The area was once a stronghold of al-Qaeda and the Taliban.
The PTM came into being in 2018 to defend the rights of around 35 million ethnic Pashtuns.
Wazir's killing has triggered accusations that Pakistan's powerful military was involved. "StatekilledArifWazir" has become a trending hashtag on Twitter in Pakistan and thousands of people have expressed solidarity with the Pashtun activists.
"He was attacked by state-sponsored militants. The masters of the attackers should know that bullets, injuries and prisons can't weaken our resolve. You will be defeated," Mohsin Dawar, PTM leader, wrote on Twitter.
"The state must conduct a transparent, effective investigation if it is serious about bringing peace and stability to former FATA," said the Human Rights Commission of Pakistan.