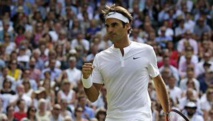 A video posted by the tournament on Saturday and doing the rounds on social media showed the Swiss being stopped by a security guard outside a locker room.
Even players are expected to wear their identity lanyards on Melbourne Park grounds and being the defending champion does not make you exempt.
Federer didn't protest after he was stopped, just waited for a member of his team to come and vouch for his identity. The security guard did look slightly embarrassed although rules are rules.
If he remembers his pass, Federer will be back on court on Sunday, when he faces Stefanos Tsitsipas for a place in the quarter-final.