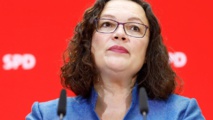 Her exit as head of the centre-left party has now prompted questions about the future of Berlin's already unstable coalition government, as well as her own SPD party, which she had hoped to rebuild from historically low election results.
Her short term in office was on shaky ground from the outset, as she began her leadership after forcing her party into another largely unwanted coalition with Chancellor Angela Merkel's Christian Democrats (CDU) and their conservative Bavarian sister party, the CSU.
Only a month before her election as party head, she and Vice Chancellor Olaf Scholz, who is also finance minister, managed to overcome fierce opposition in their party to get the SPD to rejoin the unloved grand coalition with the conservative bloc once again.
Despite wavering support from within her party, Nahles set about rebuilding the SPD after a poor showing in national elections.
However, little came of her efforts to bring a new energy into the party, and the SPD continued to sag in the polls. A historic low of 15.8 per cent in May's European elections only made things worse for her and the party.
The criticism faced by Nahles in the days after her party's low EU election results apparently prompted her to completely end her political career and give up her seat in parliament, 30 years after joining the SPD as an 18-year-old high school pupil.
The daughter of a bricklayer from Germany's western Eifel region, she once founded her own local SPD association. As a student of German literature, she wrote her master's thesis on the "role of catastrophes in serial romance novels."
As head of the party's socialist youth wing, she showed she could handle her own in power politics, later also playing a role in the resignation of party chair Franz Muentefering in 2005, while battling a cliched image of being a prickly, loud-mouthed nuisance in the party.
After the SPD plummeted to 20.5 per cent in federal elections in 2017, she switched from her post as labour minister to party chair, and was seen as one of the few remaining SPD hopefuls to restore the party, traditionally one the two largest in German politics.
After that poor performance, she, as many others, expected the party would leave the coalition and go into opposition, jokingly promising to "sock it" to Merkel's centre-right party.
But after coalition-building talks between the CDU and other parties failed, Nahles' party was forced to reconsider its position as opposition party and to weigh rejoining the grand coalition with the CDU/CSU, a move that would only further damage the party's reputation among voters.
As with many German politicians, her private life is closed off to the media. On her website, Nahles describes herself as "social democrat, Catholic, mother." She has an 8-year-old daughter, Ella, who goes to school in the western state of Rhineland-Palatinate.
She once said if she could boil her persona down into one line, it would be "a workhorse with a heart."
Now, her days of toiling for the SPD have come to an abrupt end, and she leaves plenty of work to be done behind her.