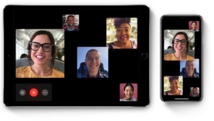 Grant Thompson, a 14-year-old in Arizona, discovered the bug, which can turn iPhones into eavesdropping devices using FaceTime, Apple's video chat service.
"We sincerely apologize to our customers who were affected and all who were concerned about this security issue. We appreciate everyone's patience as we complete this process," Apple said in a statement, adding that a fix is set to be issued next week.
"We thank the Thompson family for reporting the bug," Apple added.
The company has faced accusations for not speedily responding to the bug and the Thompson family's attempt to report it.
Apple said it responded "quickly" and is "committed to improving the process by which we receive and escalate these reports, in order to get them to the right people as fast as possible."
The glitch allowed callers using the Group FaceTime feature, launched on October 30, to improperly access users' microphones.
The FaceTime scandal comes as Apple on Tuesday reported declines in profit and revenue in its second quarter, reflecting a slowdown in iPhone sales in China.