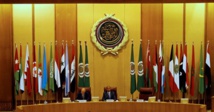 "Iran's interventions in Arab affairs have begun to take more dangerous forms - from fuelling crises in the countries to threatening the security of navigation and energy supply," Abul Gheit told a meeting of Arab foreign ministers in Cairo.
Iran has been backing the Houthi rebels in Yemen in their conflict with the internationally recognized government of President Abd Rabu Mansour Hadi. Since 2014, the Houthis have been in control of the Yemeni capital Sana'a, home to several key state institutions.
"We repeat our call to Iran to stop intervening in the Yemeni scene, stop supporting militias with money and weapons and stop turning the Yemeni territories to a platform to threaten the security and stability of neighbouring countries," Abul Gheit said.
The head of the pan-Arab body accused the Houthi rebels of being responsible for the deteriorating humanitarian situation in Yemen.
"The Houthi side does not have its own decision, but receives it from another country," he said, referring to Iran.
Yemen's feud has intensified since March 2015, when the Houthis advanced on the government's temporary capital of Aden, prompting Saudi Arabia and its Sunni allies to start an air campaign against the Shiite group.
The Saudis fear that the rebels will give Shiite Iran a strategic foothold on the Arabian Peninsula.