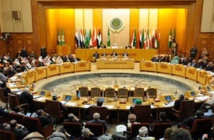 The meeting, which comes at the request of Saudi Arabia, aims to "confront the Israeli aggression on the Palestinian people" and confront the United States' "illegal decision to move its embassy to occupied Jerusalem."
An Arab League meeting of permanent representatives on Wednesday will be a preparatory gathering for Thursday's session, the source added.
At least 60 Palestinians have been killed since protests in Gaza erupted on Monday, fuelled by a controversial US embassy move to Jerusalem and the Nakba commemoration of Israel's founding.