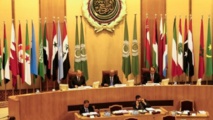 Saudi Foreign Minister Adel al-Jubeir told an Arab League meeting in Cairo that his country would "not stand handcuffed" in the face of what he called "Iranian aggressions."
"We are required today to confront Iran's policies in order to preserve our national security," al-Jubeir added at the emergency meeting requested by his country.
Saudi Arabia has accused Tehran of involvement in the firing of a ballistic missile at Riyadh this month by Yemen's Iran-allied rebels.
The Arab ministers Sunday called the firing of the missile an "aggression" against Saudi arabia and a "threat to the Arab and international security."
The officials said in a statement after their meeting that the Arab countries will inform the UN Security Council of Iran's purported supply of arms to rebels fighting the internationally recognized government there.
They condemned what they described as Iran's constant meddling in Arab affairs.
Tensions have mounted between Saudi Arabia and Iran since November 4, when Lebanese Prime Minister Saad Hariri, a long-time Saudi ally, announced a surprise resignation, accusing Tehran and its allied Lebanese Hezbollah movement of destabilizing his and other Arab countries.
The Arab foreign ministers' final statement referred to Hezbollah as a "terrorist organization", a branding that drew reservations from Lebanon, according to the head of the Arab League, Ahmed Abul Gheit.
Hezbollah is a partner to Lebanon's coalition government.
Earlier Sunday, Abul Gheit said the missile fired at Riyadh was made in Iran. "This is an unacceptable Iranian message," he added.
"The Iranian threats have gone beyond all limits and are pushing the region toward a dangerous precipice," Abul Gheit added.
Riyadh and Gulf allies have repeatedly accused Iran of inciting unrest in their countries and meddling in their affairs, charges that Tehran has denied.
Saudi Arabia and Iran are backing opposite sides in wars in Yemen and Syria.
Notepad