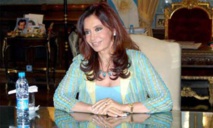 Fernandez, who was president from 2007 to 2015, is facing a string of corruption-related judicial proceedings.
The trial that starts in February deals with public work contracts given to entrepreneur Lazaro Baez, who was close to Fernandez' family, during her presidency.
The accused also include former federal planning minister Julio de Vido, former public works official Jose Lopez and Baez himself.
In another case that was revealed recently, construction and energy entrepreneurs are suspected of paying hundreds of millions of dollars in bribes to the governments of Fernandez and her late husband, 2003-2007 president Nestor Kirchner, in exchange for public contracts.
As a senator, Fernandez enjoys immunity from imprisonment, but not from having to face trial.
Notepad