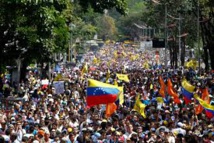 General Alejandro Perez has already appeared before a judge, Saab said.
The other detainees include opposition lawmaker Juan Requesens, who has been charged with treason and an assassination attempt.
Venezuela has also asked Interpol to arrest opposition leader Julio Borges, whom it accuses of masterminding the attack and who lives in Colombia.
The government is also seeking the extradition from the United States of Venezuelan citizen Osman Delgado Tabosky, whom it accuses of financing the attack.
A total of 34 people are suspected of involvement, according to Saab.
Requesens, Borges and Delgado Tabosky have had or will have their bank accounts in Venezuela frozen and will be prohibited from selling property they may have in the country, Saab said.
Drones carrying explosives went off in front of Maduro as he spoke at a National Guard ceremony in Caracas on August 4. The president was unharmed, but seven National Guard soldiers were injured.