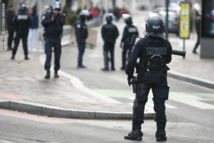 The man is suspected of providing alleged gunman Cherif Chekkat with a handgun used in the attack, according to a source close to the case.
The death toll following the December 11 attack on Strasbourg's Christmas market stood at five on Monday after a Polish national died of his injuries.
Chekatt, 29, was shot dead by police on Thursday after an intense manhunt. Prosecutors are treating the incident as a terrorist attack.
Four members of Chekatt's family and two other associates were held for questioning after the shooting. They have since been released, according to reports in French media.