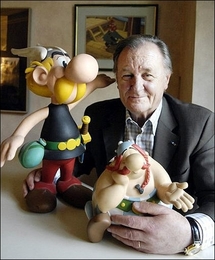 "It's a very good thing for Asterix," Rene Goscinny's daughter Anne, who also gave her consent for the series to carry on, told AFP.
Uderzo and Goscinny met in Brussels in the 1950s, releasing their first full album -- Asterix the Gaul -- in 1961.
Today his Roman-bashing antics have been translated into 107 languages, with more than 300 million books sold.
The Asterix stories have also been turned into two successful films and an Asterix theme park was opened in 1989 north of Paris.
Uderzo is currently working on a new Asterix album, set for release in October, to mark the 50th anniversary of the character's creation in the journal Pilote, in 1959.
---------------------------------------
Image of Albert Uderzo, by Stephane de Sakutin.