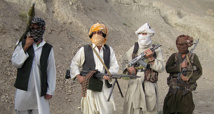 The clash took place on the outskirts of Lashkargah city, the capital of Helmand province, on Saturday night, said the provincial governor's spokesman, Omar Zwak.
ToloNews, a local news channel, said 14 policemen were killed and two others were wounded, citing unnamed security sources.
Helmand is one of the most violent provinces in southern Afghanistan where 90 per cent of land is either fully controlled or fought over by Taliban militants.