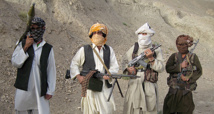 At least five others were wounded and 12 taken hostage after the base was overran by the militants in Pusht Rod district, provincial council member Shah Mahmood Naeemi told dpa.
"This is very tragic," Naeemi said, adding that the five army soldiers who were wounded were able to stay alive because they pretended to be among the dead.
Provincial council member Khair Mohammad Nawrozi said the fighting began around 1 am Sunday (2030 GMT Saturday) and went on until 5 am.
Taliban militants have ramped up attacks on Afghan security forces and government facilities in recent months, leaving Afghan forces thinly stretched throughout the country.
At least 13 Afghan security forces were killed on Monday in a Taliban attack in northern Jawzjan province.