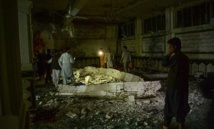 More than 25 others were also wounded in the incident, said Abdullah Hasrat, a spokesman for the provincial governor.
The wounded have been taken to nearby hospitals, with many in serious condition, said Welayat Khan Ahmadzai, the head of Paktiya province's health department.
Two suicide bombers armed with rifles entered the Shiite mosque during Friday prayers, started shooting at worshippers and then blew themselves up, said Paktiya police chief spokesman Sardar Wali Tabasum.
While no group has claimed responsibility as of yet, the Taliban has denied any involvement in the attack. Shiites in Afghanistan have been targeted by the Islamic State extremist group regularly.
Some 200 Shiite families are living in the Khoja Hassan area of Gardiz, in the Pashtun-majority province of Paktiya, Hasrat said.
Paktiya is one of the most embattled provinces in eastern Afghanistan, where the Haqqani network, an offshoot of the Afghan Taliban, has maintained strongholds for years.