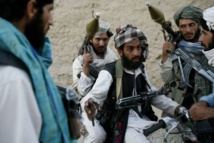 At least 20 soldiers were killed when the Taliban attacked their post in the district of Bala Boluk in Farah late Friday, said Farid Bakhtwar, the head of the council in the western province.
Taliban militants overran large parts of Farah in May, killing at least 30 Afghan security forces before being pushed back by an Afghan aerial operation backed by NATO.
Meanwhile, in the embattled province of Ghazni in the country's south-east, at least six local policemen were killed when Taliban insurgents attacked two checkpoints in Jaghato district, officials said.
The Taliban have controlled the district centre for weeks now and are trying to expand into neighbouring districts, provincial council member Ghulam Sakhi Amar said.
The Islamist group has mounted several recent attacks on parts of Ghazni.
Elsewhere in Afghanistan, Taliban attacks on checkpoints in the northern provinces of Takhar and Kunduz left around 40 soldiers dead on Thursday.
The Taliban have increased attacks on Afghan security forces, government buildings and district capitals since the announcement of their spring offence in April.