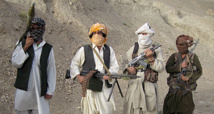 In Ghazni province, around 300 Taliban fighters attacked the centre of Andar district at around 1 am (2030 GMT), district governor Mohammad Qasem Disiwal said.
The Taliban drove a stolen Humvee military vehicle filled with explosives onto the premises of the Andar district governor and police headquarters, provincial council member Amanullah Kamran said. Fourteen Afghan security forces were killed and nine wounded when the vehicle exploded.
At the same time, the militants attacked two checkpoints, killing another 16 in total, Kamran said.
"The number of casualties may rise," Kamran added, saying that a reinforcement unit headed to Andar had also been ambushed, leaving eight security forces dead or wounded.
Meanwhile, two bombings by Taliban militants rocked Gardez, the capital of eastern Paktia province.
Special forces have surrounded the area, an Interior Ministry statement said, adding that two terrorists have so far been killed.