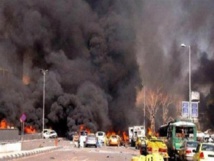 The bombing took place in an area near an Afghan spy agency facility as well as the US embassy and other Afghan and international institutions.
The claim was carried by the group's semi-official Amaq news agency, which said the bomber had targeted an Afghan spy agency facility in the area.
Meanwhile, 25 Afghan army members died after Taliban militants attacked their checkpoint in the Bala Buluk district of western Farah province late Friday evening with the attack continuing into early Saturday morning, Khair Mohammad Noorzai, a provincial council member from Farah, told dpa.
Noorzai said the Taliban took control of the checkpoint for a brief period and took all of the weapons with them.
In Helmand province, at least three people were killed and 17 others wounded in two attacks in the capital city of Lashkargah and Nad Ali district, according to provincial officials.
One person was killed and 16 others injured in a car bombing in the car park of an Afghan spy agency facility in Lashkargah city, Abdul Ahad Sultanzoy, a provincial council member from Helmand, said.
Omar Zwak, a spokesman for the Helmand governor confirmed the bombing, adding that the three people injured had been taken to hospitals.
Razia Baluch, a provincial council member from Helmand said the explosion rattled the windows of her house and she heard the sirens of ambulances heading towards the site.
Images posted online by Afghan news agency Pajhwok showed a devastated yard with damaged walls and shattered windows.
In another incident in Nad Ali district, two Afghan army soldiers were killed and one other was wounded after Taliban militants attacked a military base and set off a car bomb early Saturday morning, Bunay Khan Sarhadi, the deputy police chief of Helmand, said.
Insurgent attacks on Afghan security force facilities have intensified since the end of NATO's combat mission in 2014. Forces have been stretched thin across the country while fighting an increasing insurgency.