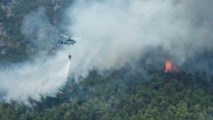 Earlier, state-run radio station ERT reported that 24 people had been killed, citing emergency services and local hospitals.
More than 150 people were injured in the Rafina fire, with many in critical condition. The town's Mati neighbourhood was almost completely destroyed by the flames.
Fishermen, the coastguard and holidaymakers in dinghies have also rescued more than 700 people from beaches and rocky outcrops, where they had sought shelter from the flames, ERT reported.
Thousands of people also spent the night in their cars, sports halls or the outdoors.
Most of the fires were brought under control overnight after strong winds eased off, with aeroplanes and helicopters launched to help douse the flames at dawn.
"We hope to put out the fires today," a spokesman for the fire service told state-run television.
Government spokesman Dimitris Tzanakopoulos had earlier put the death toll at 20 in a televised address early Tuesday.
Blazes were also reported to the west of the Greek capital on Monday, near the Greek holiday destination of Kineta, amid searing summer temperatures of 40 degrees Celsius.
A state of emergency has been declared in the Athens metropolitan area and Prime Minister Alexis Tsipras cut short a visit to Bosnia-Herzegovina to return to Greece.
He has suggested that some of the blazes might have been started by arsonists.
Tsipras ordered additional help from fire departments and emergency services in neighbouring regions and requested assistance from the military.