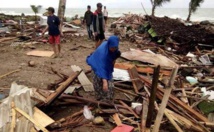 BNPB spokesman Sutopo Purwo Nugroho said in a statement Sunday the number of missing had risen to 20, while 584 people were injured.
The number of casualties was expected to increase as authorities were still collecting data from areas affected by the tsunami, he added.
Undersea landslides triggered by an eruption of the Mount Anak Krakatau volcano may have caused the tsunami, the country's climatology agency (BMKG) said.
The volcano is located on the strait between the island of Java and Sumatra.
The climatology agency said the eruption took place at 9.03 pm (1403 GMT), and the tsunami hit at 9.27 pm.
"At the same time the tide was high due to the full moon, so it was a combination of two natural phenomenons, the tsunami and the high tide," Nugroho said.
He said casualties had been recorded in the provinces of Lampung on the Sumatra side of the strait and Banten on the Java side of the strait.
Some of the worst hit areas were in Banten, mainly in Pandeglang district where there are many popular beach resorts which were busy with tourists during the holiday season.
A clip shared widely on social media showed a band called Seventeen playing when a large wave crashed into the rear of the beachside stage on which they were performing.
The band was playing at a beach resort in Tanjung Lesung, one of the tourist centres in Pandeglang.
An estimated 230,000 people were killed on December 26, 2004 when an earthquake-triggered tsunami struck 13 countries on the Indian Ocean including Indonesia, Sri Lanka, India and Thailand.