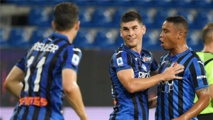 Berlin -
By John Bagratuni,
-
Atalanta take on mighty Paris Saint-Germain on Wednesday as they aim to continue their dream run in the Champions League which probably means more to them than any other team.
The northern Italian debutants reached the knock-out rounds despite losing their first three group games, and their home city of Bergamo then became one of the coronavirus epicentres.
Thousands died in the area and footage of coffins transported by the army went around the world.
There has even been talk that their last-16 first leg against Valencia in late February in Milan in front of some 40,000 fans helped spread the virus in the region and in Spain.
That match - which Atalanta won 4-1 en route to an aggregate 8-4 success - has been named "game zero," and the team is aware that more than 90 or 120 minutes of football are at stake in Lisbon.
"We are playing with Bergamo and for Bergamo, which gives us extra strength," their Swiss player Remo Freuler was quoted as telling the L'Eco di Bergamo newspaper.
"This area has suffered so much, we know that too well in this squad, so that's further motivation when we step on to the pitch. It was in Serie A, it will be again in Lisbon."
Atalanta are coming off a second straight third-place finish in Serie A with a club record 78 points, and their high-powered attack scored 98 goals - 22 more than champions Juventus.
With Juve and Napoli ousted in the last 16, Atalanta are also the last Italian representatives in the Champions League.
The French champions have reasons to worry about the Bergamaschi, who display a fast, aggressive game and a remarkable ability to bounce back after conceding.
They are missing goalkeeper Pierluigi Gollini and also Josip Ilicic, who scored all four goals in the return leg in Valencia but is not available for personal reasons.
But they also have the powerful Duvan Zapata and fast Luis Muriel, both Colombia internationals who have scored 18 league goals apiece, and the influential Papu Gomez.
Their in-form German left-wingback Robin Gosens believes that Atalanta have an advantage because they have played recently while PSG have only had the French Cup and League Cup finals lately after their league was never restarted and abandoned.
"In Italy the season resumed and came to a conclusion, whereas that was not the case in France. Apart from the two cup finals, they haven't played in four or five months," Gosens said.
He added that PSG have many stars who can decide a game on their own but are "not a team unit" like Atalanta.
Atalanta have nothing to lose while Qatar-backed PSG are making yet another attempt to win the elite event. However, Neymar and company were not convincing in the two cup games and Kylian Mbappe remains highly doubtful with an ankle injury.
"They're a very talented team, among the candidates to win the Champions League. A lot depends on Mbappe, whether he will play or not. But we have a chance," coach Gian Piero Gasperini said.
"We are pleased to tackle PSG. Being in the quarter-finals is an amazing achievement."