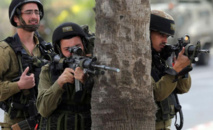 The identity of the man was not yet clear, a police spokesman said Friday.
The Israeli newspaper Haaretz reported that the man was Palestinian.
According to the Israeli rescue service, two women were treated for shock.
Over the past two years Palestinians have repeatedly attacked Israelis in Jerusalem and the West Bank with knives, although in recent months this type of attack has significantly decreased.