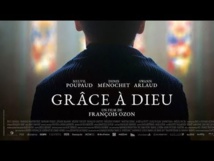 The priest had argued that Francois Ozon's film "Grace a Dieu" ("By the Grace of God"), due to hit cinemas on Wednesday, violated his right to be presumed innocent.
He has been placed under formal investigation but no trial date has been set, according to French media.
The film won the Grand Jury Prize at the Berlin Film Festival on Saturday.
Broadcaster FranceInfo reported that another person depicted in the film has taken separate proceedings in Lyon to have her name removed from the film.
A decision in that case is expected on Tuesday, the report said.
The priest's former superior, Cardinal Philippe Barbarin of Lyon, is next month due to hear the verdict in his trial on charges of failing to report allegations about him to authorities.
Prosecutors have called for Barbarin's acquittal in the case, brought to court directly by a victims' association.
They argued that all evidence against him was either past the statute of limitations or did not show an offence had been committed.
The Catholic Church has been dogged for years by accusations that prelates covered up cases of clerical child abuse.
A special summit in the Vatican on the issue, called by Pope Francis, is due to start on Thursday.