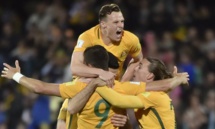 Following a 0-0 result in San Pedro Sula on Friday, 77,000 fans inside Sydney's Stadium Australia watched a goalless first half as a nervous Socceroos outfit struggled to find its rhythm.
But Jedinak broke the deadlock with a deflected free kick early in the second period and converted two penalties to ensure Australia make a fourth consecutive trip to the finals next summer.
The best chance of the opening half fell to Australian Tom Rogic but the Celtic player duffed the shot on his favoured left foot.
The Socceroos started strongly after the break with Aaron Mooy taking three corners, but the hosts were unable to convert in front of goal.
In the end a strong attacking run from Rogic, which ended in him being fouled, gave Australia the chance to go ahead. Jedinak's set piece deflected off Henry Figueroa, wrongfooting Honduras' goalkeeper Donis Escober, and landed in the goal.
Honduras pushed hard to level the scores in a hectic phase thereafter but Australia held firm. In his return game after an ankle injury, Tim Cahill managed a long-distance header which hit the crossbar, but was finally replaced by Tomi Juric in the 66th.
A barely noticeable handball from Bryan Acosta in the penalty area in the 71st minute then gave Australia a chance to extend their lead. Jedinak stepped up to the mark and calmly slotted the resulting penalty into the left of the net.
He repeated the feat in the 85th, converting from the spot after Robbie Kruse was brought down from behind by a clumsy challenge from Jerry Palacios just as he was away on goal.
With home fans already celebrating, Honduras managed a late consolation via Alberth Elis, a scrambled goal poked in from short range, but by that stage Australia's progression to their fifth World Cup was already assured.
As the final whistle sounded, green and gold fireworks exploded over Sydney Harbour as Socceroos players donned T-shirts with the message, "Time to take on the world."
"It was our duty as a nation of football players to get this job done," Jedinak said. "We set out on a task two and a half years ago - we stuck to our guns and we got there."
Ange Postecoglou, who has refused to confirm or deny reports that he will continue as Socceroos coach until next year's World Cup, said the occasion was "overwhelming."
"I tell the guys if we believe in what we do and are resilient, we will break most teams down."
"Once we got the first goal we were threatening all the time. We got the result we deserved," he added.
"I'm going to enjoy tonight. I owe it to myself, my friends and family, because they have gone on this journey with me too."
New Zealand take on Peru late Wednesday in Lima to decide the final place at next year's World Cup. The first leg of that play-off, which took place in Wellington on Saturday, also ended in a 0-0 draw.