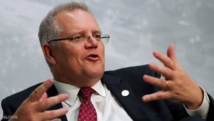 "I must say my prayers this morning are for Alek Sigley and his family," Morrison, who attended a morning service at St Christopher's Catholic Cathedral in Canberra, told reporters.
The 29-year-old student from Perth, who also operated guided tours in North Korea, has not contacted his his family and friends since June 24.
"This is a very troubling and concerning situation and we will be continuing to use every effort that we have to locate him and hopefully to be able to bring him home safely," Morrison said ahead of the first sitting of the Australian parliament since the May federal election.
When asked if there were any updates, the prime minister said: "No, I'm afraid there's not."
"I'm seeking and receiving regular updates but this morning in the absence of those, and indeed regardless of that, prayer is my response," Morrison said.
Sigley, who speaks fluent Korean, was doing a master's degree in Korean literature at Kim Il Sung University in Pyongyang. He was the founder of Tongil Tours, conducting trips to North Korea since 2013.
Morrison discussed Sigley's disappearance with world leaders at the G20 Summit in Japan over the weekend and was offered help.
Australia has diplomatic ties with North Korea but not an embassy. It has not banned its citizens from travelling to North Korea but advises its citizens to "reconsider your need to travel" there.