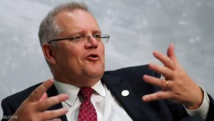 The alleged attacker, a 28-year-old Australian, live-streamed a 17-minute video of the shootings on Facebook. A total of 50 mosque-goers were killed in the terror attack earlier in March.
With the new law, Australia will become the first country in the world to penalize social media giants with jail and millions of dollars in fines if they do not remove the violent materials quickly.
The legislation will be introduced into Australia's parliament next week, Prime Minister Scott Morrison said on Saturday.
"Big social media companies have a responsibility to take every possible action to ensure their technology products are not exploited by murderous terrorists," Morrison said in a joint statement with his attorney general and communications minister.
He said the new legislation will force social media companies "to get their act together and work with law enforcement and intelligence agencies to defuse the threat their technologies can present."
Attorney General Christian Porter said the law will include offences with penalties of up 10 per cent of a company's annual turnover and up to three years in prison for the social media giants' executives who fail to act to remove violent material from their platforms.
The Australian government has been critical of social media giants in the Christchurch aftermath, saying they should do more to stop "terrorists and criminals from spreading their hate and violence."