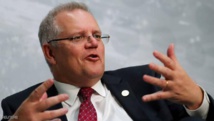 Sydney -
By Peter Godfrey,
-
Australian Prime Minister Scott Morrison has denied that recent police raids on the country's national broadcaster and a journalist were instigated by his government and insisted that he was committed to press freedom.
The Australian Federal Police (AFP) on Wednesday raided the Sydney head office of the Australian Broadcasting Corporation (ABC) over stories it produced in 2017 on allegations of unlawful killings committed by Australian special forces in Afghanistan.
The raid followed another on Tuesday on the Canberra home of NewsCorp Australia journalist Annika Smethurst, who had written stories about government plans to grant spy agencies greater powers.
The AFP has denied any link between the two raids. However, both the ABC and Smethurst had used information obtained from inside government departments.
"My government is absolutely committed to freedom of the press," the recently re-elected prime minister told journalists in Britain on Wednesday after he attended events marking the 75th anniversary of D-Day.
"Any suggestion that these [raids] were done with the knowledge of, the instigation of government ministers, is completely untrue," Morrison said.
The raids "occurred in accordance with Australia's laws and accordance with the AFP that acts independently of government ministers [in] doing their job," he added.
Acting AFP Commissioner Neil Gaughan on Thursday defended the raids, saying that the warrants executed at the ABC and Smethurst's home related to material classified as secret, or top secret.
"They were related to national security information - how it was handled and who had access to it," he said at a press conference in Canberra, adding that the information had the potential to pose a "grave danger to the national interest."
He again denied that the government had played a role in the investigation, calling the AFP's actions "independent and impartial at all times."
"No sector of the community should be immune to this kind of activity," he said.
The ABC's head of investigative journalism, John Lyons, said Wednesday he had "never seen an assault on the media as savage as this."
Australia's National Press Club said the "extraordinary and intrusive police actions indicate a worrying attitude on the part of law enforcement, security agencies and the federal government - which is contrary to the public's right to know."
Britain's BBC described the raids as "deeply troubling."
"At a time when the media is becoming less free across the world, it is highly worrying if a public broadcaster is being targeted for doing its job of reporting in the public interest," the public broadcaster said in a statement.