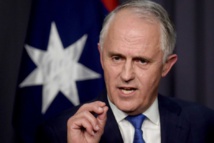 The letter, sent from the Foreign Affairs Committee of North Korea's parliament in late September, warns that if the US president believes he can bring North Korea "to its knees through nuclear war threat, it will be a big miscalculation and an expression of ignorance."
Peace-loving nations should not align themselves with "the heinous and reckless moves of the Trump administration trying to drive the world into a horrible nuclear disaster," the letter adds.
But, speaking on Friday to Melbourne radio station 3AW, Turnbull dismissed the letter as "basically a rant."
"It is North Korea that is threatening the stability of the world," he said. "That is the regime that has to return to its senses and stop this reckless conduct."
"They have sent it to a lot of other countries, like a circular letter," he added.
Foreign Affairs Minister Julie Bishop said she believes the letter is a sign that sanctions and diplomatic pressure are having an effect on North Korea.
"I think this shows they are feeling desperate, feeling isolated, trying to demonize the US, trying to divide the international community," Bishop said, according to a report from Fairfax Media.