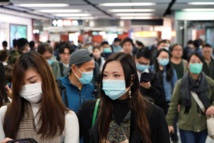 The broad "economic shock" due to the Covid-19 downturn could cause gross domestic product to fall between 10 to 12 per cent in the three months to June, according to Josh Frydenberg.
"The economy will take a 50-billion-dollar hit in the June quarter, but things could get a lot worse if restrictions to deal with the coronavirus stay in place," Frydenberg said in an address at the National Press Club in Canberra.
The 4-billion-dollar loss "is equivalent to what around 4 million Australians on the median wage would earn in a week," he said.
The unemployment rate had fallen to 5.1 per cent in February but is now forecast to reach 10 per cent — its highest rate in 26 years — in the June quarter.
Australia has already promised some 320 billion dollars worth of economic support to tackle the crisis.
Since mid-March, Australia has closed its borders and restricted movements. Businesses have been shut down, and the government has implemented strict social distancing measures.
"If these restrictions were increased even further, akin to the eight-week lockdown in Europe, then the adverse impact on GDP could double to 24 per cent, or 120 billion dollars, in the June quarter," Frydenberg told reporters.
Australia's national cabinet meeting on Friday will decide on easing restrictions.
Australia has recorded more than 96 coronavirus-related deaths and 6,850 cases, which has been decreasing notably in recent weeks.