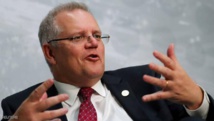 Scott Morrison
"I do not propose to go into the detail of these operational matters, but our cyber experts believe that a sophisticated state actor is responsible for this malicious activity," Morrison told parliament.
Local media have quoted security sources as saying China could be behind the attacks, but Morrison did not specify.
The attempted hack forced parliamentarians and staff members to reset their computer passwords as a precaution. Ministers and their offices were not affected because they use different networks.
Morrison said during the course of a subsequent investigation it was revealed that the computer networks of the Liberal and National parties, who make up the coalition government, as well as the opposition Labor party, had also been affected.
Labor leader Bill Shorten said the attack was of "grave concern" and "we cannot be complacent."
Morrison said there was "no evidence of any electoral interference."
Australia is due to hold a federal election before May.
Alastair MacGibbon, the head of Australian Cyber Security Centre, a government intelligence agency, said experts still did not know whether any data had been stolen from the parliament, the lawmakers or the political parties.
"We don't know. These are very early days," MacGibbon told reporters in Canberra on Monday.
Unfortunately, some of the forensic evidence which could have been useful in the investigation had been removed during "extraordinarily fast remediation action" taken to stop the intrusion, he said.
Agencies had to decide on allowing an offender to continue or taking fast action, he said, adding the quick remediation response meant agencies were not certain what information may have seen or stolen.
"We will continue to work with our intelligence and law enforcement agencies, both here and overseas, to try to determine what [the intruders] were trying to do," MacGibbon said.
He also could not guarantee the network systems were completely hacker-free, given the sophistication of the attack.
In December, US and British officials said businesses and government agencies in the US, Britain and at least 10 other countries - which did not include Australia - had been the victims of a massive data theft carried out by state-sponsored Chinese hackers.
Beijing has rejected the allegations, saying they were a "deliberate defamation" pulled "out of thin air."
Notepad