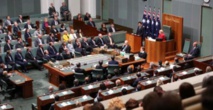 Only four parliamentarians in the 150-seat lower house voted against the bill, which changes the definition of marriage from being between a man and a woman to "a union of two people."
"What a day! What a day for love, for quality, for respect! Australia has done it. Every Australian had their say and they said it is fair, get on with it!" Prime Minister Malcolm Turnbull told parliament.
The bill will become law when the governor general ratifies it, which is expected to take place within days.
All attempts to bring about half a dozen amendments to the bill, including to safeguard religious freedoms, were rejected.
As the results were announced, there was jubilation on the floor of parliament and in the public gallery, where dozens of same-sex activists, including Olympian gold medallist Ian Thorpe, had gathered.
The applause went on for more than six minutes and the gallery erupted into an impromptu rendering of the song "We Are Australian" as the lawmakers watched them from the floor.
The upper house, or Senate, had passed the same bill last week, after which it was sent to the lower house for debate.
Some 62 per cent of Australians had voted in favour of same-sex marriage in a legally non-binding postal survey, the results of which were announced last month.
Notepad