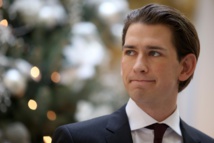 Sebastian Kurz
The conservative leader told the Sunday edition of Germany's Die Welt newspaper that the EU's Frontex border protection agency should seek authorization to head to countries like Tunisia or Libya and prevent crossings that would have originated there.
"The new political mandate should allow Frontex to be active in third countries with the consent of the local government in order to end the dirty business model of human traffickers and prevent trafficking boats from launching on the dangerous journey across the Mediterranean in the first place," Kurz said.
Austria takes over the EU Council presidency in July.
More than 1,500 people off the Libyan coast were saved from distress and drowning at sea on Thursday and Friday by ships operated by non-governmental organizations and the Italian coastguard and navy, according to aid organization SOS Mediterranee.
Libya - mired in anarchy since the 2011 armed uprising that toppled long-time dictator Moamer Gaddafi - has become a hub for migrants and refugees trying to cross the Mediterranean to Europe. Around 1 million are thought to be currently in the country, according to the International Organization for Migration (IOM).
According to Kurz, Frontex should also "stop illegal migrants at the external borders, look after them and then ideally send them back to their country of origin or transit country."
The EU's controversial distribution of refugees across the 28-member bloc according to quotas is neither realistic nor a long-term solution for the migration crisis, Kurz said.
"The basis of a functioning state is in fact that a country decides for itself which people are allowed to immigrate, and how many," Kurz said.
As a way of resolving the dispute over reforming European asylum policy, the current EU Council presidency - held by Bulgaria - has proposed a compromise: Refugees should only be automatically redistributed in the EU if, as in 2015, there is a very strong influx. Almost 900,000 migrants entered Germany that year.