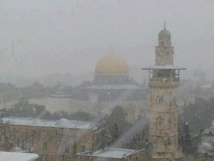 However, Strache also said on Sunday that Austria should not take an individual approach on this issue within the European Union, which believes that the status of Jerusalem should be settled between Israelis and Palestinians.
"I have understanding for Israel's wishes, as many of its politicians say: It is our capital, it is the seat of the Knesset," Strache said in an interview with the Kurier newspaper, reacting to US President Donald Trump's recognition of Jerusalem as the capital city.
"We would also wish to see the embassies settled there, in line with international custom."
Explaining why he does not share the EU's opposition to Trump's move, Strache said: "Peace efforts have not been successful so far. This must change."
Strache's FPO is currently in coalition talks with the centre-right People's Party to form a new cabinet, following elections in October.