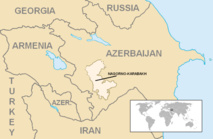 The parliament in the capital Baku agreed the measure at a special session on Sunday, the agency reported, with Azerbaijani President Ilham Aliyev having confirmed the decision.
Martial law is now set to begin across the country at midnight (2000 GMT). Starting Monday evening there will also be curfews in several regions, according to Azertac.
Armenia on Sunday declared martial law after heavy clashes with Azerbaijan in the disputed Nagorno-Karabakh region, Prime Minister Nikol Pashinyan said.
The declaration followed reports by both militaries of heavy fighting in the disputed region in the southern Caucasus between neighbouring Azerbaijan and Armenia.
Authorities in Nagorno-Karabakh earlier said the region's capital Stepanakert has been shelled and urged residents to get to safety. Numerous houses in villages have been destroyed, with injuries reported.
The disputed region has also declared a state of war, agencies said, with all able residents aged 18 and older to prepare for action.
Both sides blamed each other for the fighting, with Pashinyan taking to Facebook to claim that the shelling started early in the morning from the Azerbaijani side.
"The entire responsibility for this lies with the military-political leadership of Azerbaijan," said a spokesperson for Armenia's Defence Ministry.