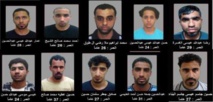 The three Shiite men faced the firing squad, six days after a court upheld their death sentences over a bomb attack in March 2014, the prosecutor's office said in a statement carried by BNA state news agency.
The executions came a day after demonstrations broke out across Shiite villages following rumours that the authorities were going to carry out the death sentences.
They are the first in six years in the Gulf kingdom, according to London-based human rights group, Reprieve, which had warned on Saturday against the move.
Scores of men and women took to the streets after the families of the three were summoned to meet them in prison, a measure that usually precedes the implementation of death sentences, witnesses said.
Later on Saturday, a policeman was wounded when his patrol came under fire in the Shiite village of Bani Jamra, said the interior ministry.
"No, no to execution," the protesters chanted.
The high court on Monday upheld the death sentences against the trio convicted in a bomb attack in March 2014, which killed three policemen, including the officer from the United Arab Emirates.
The executed men have been named by activists as Sami Mushaima, 42, Ali al-Singace, 21, and Abbas al-Samea, 27.
Seven other defendants received life terms.
The Emirati officer was part of a Saudi-led Gulf force which rolled into Bahrain in March 2011 to help security forces put down a month of protests led by the country's Shiite majority.
Reprieve director Maya Foa on Saturday described as "deeply alarming" the reports that Bahrain was set to carry out its "first executions in six years, based on confessions extracted through torture".
Brian Dooley, head of the Washington-based Human Rights Defenders, said the executions "would be a new, enormously alarming step from Bahrain's regime".
"Washington should warn its Gulf ally that this would be a reckless, frightening level of repression to pursue, likely to spark rage and further violence in an already volatile region," he said in a statement.
Bahrain is a strategic ally of the United States and home to the US Navy's Fifth Fleet.
Hundreds of Shiites have been arrested and put on trial since a crackdown on the protests that took their cue from Arab Spring uprisings and called for a constitutional monarchy with an elected prime minister.
Authorities have intensified their crackdown on opposition despite repeated appeals by international rights groups.
Cleric Ali Salman, the head of Al-Wefaq largest opposition group, was arrested in December 2014 and subsequently sentenced to nine years in prison after being convicted of inciting hatred.
Salman's arrest sparked protests across Bahrain.