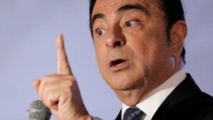 "I'm getting ready to tell the truth about what's happening. Press conference on Thursday, April 11," the 65-year-old tweeted on his newly created account.
The office of his lawyer Junichiro Hironaka confirmed the event and the date.
Ghosn has kept a low profile since he was released from the Tokyo Detention Centre in early March after posting nearly 9 million dollars in bail money, ending a stretch of more than 100 days in custody.
Ghosn, who led the Renault-Nissan-Mitsubishi Motors alliance, has denied the charges against him.
Nissan is to hold an extraordinary shareholders' meeting on Monday to remove Ghosn from the board and bring in Renault's new chairman Jean-Dominique Senard as a new member.
Ghosn spearheaded a remarkable turnaround at the Japanese carmaker after its near-bankruptcy in 1999.