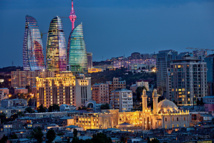 Competition is already underway in the capital after the opening football matches on Monday and Tuesday's first round of handball preliminary games.
But just two days before the opening ceremony at the Baku Olympic Stadium, Kuwait, Libya and Sudan were all forced to withdraw for various reasons.
Kuwait are currently banned by the International Olympic Committee (IOC) and efforts to help their athletes compete as independents under the Islamic Solidarity Sports Federation's (ISSF) flag ultimately failed.
"Despite our collective efforts to provide the athletes from Kuwait with an opportunity to take part in the Games, the ISSF and AISGOC accept that ultimately this was not possible and would like to thank all parties for the work they did to support this initiative," an official statement said.
Libya could not send a team due to funding difficulties, while no reason was given for Sudan's withdrawal.
That news put an end to the hopes that all 57 ISSF countries would feature for the first time at the fourth staging of the Games, although over 3,000 athletes are still expected to compete.
Four continents will be represented in the city by the Caspian Sea, with both Suriname and Guyana sending teams from South America.
Sixteen venues are ready to hold the 20 different sports that make up the Games, although three have already made their bows for the football and handball matches.

- Africans bidding for success -

Most eyes will be on the home country as they look to follow in the footsteps of Saudi Arabia and Indonesia in topping the medals table as hosts, but some of the smaller delegations are also expecting to make an impact.
Cameroon won just one medal in each of the two previous successful editions of the Games, but they are hoping to improve that record in the coming fortnight.
"I want to go home with a medal, with gold if it's possible," said weightlifter Nkoh Donald.
"I have faith, and confidence in myself. Everyone in my country knows that I will try my best."
The Gambia have an even worse record at the Solidarity Games and claiming a maiden medal would be a great achievement.
"My country is expecting me to perform. I'm expecting to perform," Gambian sprinter Alieu Joof insisted.
Both of those nations have more medal chances than Niger though, who are sending just two athletes, which is 343 fewer than Turkey.
The bigger African teams have started well, as after Morocco opened the Games with a 1-0 football win over Saudi Arabia on Monday, Algeria stunned Turkey 2-1 and bounced back from a handball defeat to Saudi Arabia by thrashing Pakistan on Wednesday.

- Baku building on European Games legacy -

It is no secret that Azerbaijan is hoping to host a Summer Olympics in the near future, after two failed bids to become a candidate city in both 2016 and 2020.
But the inaugural European Games were held in Baku two years ago and many of the same venues, including the athletes' village, are being used again.
It isn't just similar infrastructure on show, as organisers have also tried to build on the European Games' legacy by giving roles to locals who helped experienced managers from abroad in 2015.
"These were people who have Olympic experience, have solid experience," said director of press operations Jayne Pearce.
"Every single one had an Azerbaijani deputy, with the view that next time there was a major event, we wouldn't be needed.
"And so for 2017, all of the venue media managers and venue photo supervisors are Azerbaijani, which is, I think, a fantastic human legacy."
Ahead of the latest round of football and handball matches and the start of the volleyball tournament on Thursday, the anticipation and the weather were hotting up nicely, although Baku was also fulfilling its billing as 'the city of winds'.
jc/ak