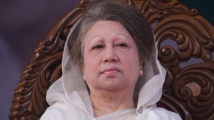 The two-judge panel of the High Court, headed by M Enayetur Rahim, passed the judgement disposing of separate petitions filed by the prosecution, asking for a life sentence, and Zia's defence team, calling for aquittal.
The High Court also rejected a petition for acquittal from five people who worked for the former prime minister, including Zia's son Tarique Rahman, who had been given 10-year sentences after being convicted for the same scheme, said prosecution lawyer Khurshid Alam Khan.
Zia, who heads the opposition Bangladesh Nationalist Party (BNP), was handed the five-year sentence by a lower court on February 8 for misappropriating funds intended for an orphanage.
She was initially held in Dhaka Central Jail but was moved to a Dhaka hospital after her health began to deteriorate.
She was convicted of swindling 21 million taka (252,203 dollars) to personal accounts from Zia Orphanage Trust, a charity named after Zia's slain husband Ziaur Rahman, during her 1991-1996 tenure.
In a separate case, a Dhaka court on Monday sentenced the 73 year-old politician to seven years in prison for illegally raising charitable funds by using the power of her office during her second term (2001-2006) as prime minister.