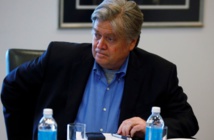 Bannon is setting up a foundation in Europe called The Movement, which will conduct polls and provide advice to right-wing organizations across Europe, Bannon told the Daily Beast.
Ultimately, he hopes The Movement will rival the impact of support provided to liberal organizations, particularly those backed by Hungarian-born financier George Soros' Open Society.
Bannon, a controversial figure who until early this year was an executive at the right-wing website Breitbart News, helped lead Trump's 2016 presidential campaign, earning him a position in the White House. He left the job last year in a shakeup of White House staff.
The Daily Beast said in the last year Bannon has held talks with European right-wing groups and leaders from Nigel Farage in Britain and members of Marine Le Pen's National Alliance - formerly the National Front - to Hungarian Prime Minister Viktor Orban and Polish populists.
He envisions a right-wing "supergroup" within the European Parliament following election in May.
"Everybody agrees that next May is hugely important, that this is the real first continent-wide face-off between populism and the party of Davos," he said, referring to the Swiss venue for an annual economic forum.
The Movement's headquarters are expected to be in Brussels. The hiring of an initial 10 full-time staff is to begin in the coming months, growing to about 25 after 2019, if the project is successful.
Notepad