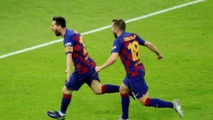 But organizers and health authorities decided the race planned for March 15 could not take place and instead postponed the event to October 25.
Several events across the globe have been cancelled including the Chinese Formula One Grand Prix while sport in Italy, the European centre of the viral outbreak, is in chaos.
All sport in that country will take place without fans until early April, if it goes ahead at all.
Kilian Albrecht, manager of US ski star Mikaela Shiffrin, was harshly critical of the governing FIS for not relocating the season finals from Cortina d'Ampezzo, in northern Italy.
"As always no one asked the racers if they want to race or not. I bet the majority would have wanted to race," he wrote on Twitter.
"Fis would have had enough money to help swe (Sweden) and nor (Norway) to organize it. Another proof of missmanagment (sic) and total desperation. Its (sic) about time that a new leadership is coming."
The FIS said travel restrictions would have affected the number of athletes competing in Cortina and short-notice made relocating the March 16-22 event impossible.
Paris Saint-Germain's French league match at Strasbourg late Friday was postponed but PSG are currently due to host Borussia Dortmund as planned on Wednesday in the Champions League.
European governing body UEFA has already said the Champions League match between Atalanta and Valencia, and some Europa League games, would be played behind closed doors.