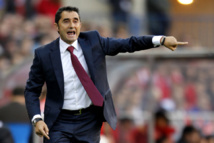 Ernesto Valverde
Bartomeu said: "I have spoken to him today and he is very happy because this is a very special challenge for him. He has the capacity, the know-how and the experience to do this job.
"He has a style of working that fits out club, he loves using the youth system and he is also passionate about new technologies and their application to matches."
The former Athletic Bilbao coach played for Barcelona from 1998 until 2000. He was part of the team that won the Cup Winners Cup and UEFA Cup, before signing for Bilbao where he spent six years.
This is not Valverde's first coaching job in the city of Barcelona because he coached Espanyol from 2006 to 2008 where he finished UEFA Cup runners.
He has also coached Valencia and won three leagues and and two cups with Olympiakos in Greece.