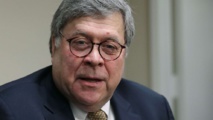 Barr's testimony before the Senate Judiciary Committee will be his first in Congress since the release of a redacted version of the 448-page report on April 18.
The report showed that President Donald Trump's activity raised concerns that he was interfering in the probe into the election meddling, but it didn't conclude he obstructed justice.
Democrats are expected to probe the 10 episodes of possible obstruction revealed in the report, including Trump's ordering of then-White House counsel Donald McGahn to fire Mueller, which did not occur.
Democrats also are expected to ask him about what they say are inconsistencies in his statements and how the US should proceed in light of threats to the US election process.
Mueller's report was made public after nearly two years of investigation. It agreed with earlier assessments by the US intelligence community that Russia attempted to meddle in the 2016 presidential election but did not find that Trump or his campaign coordinated with Moscow in the efforts.
Barr will testify a day after several senators requested an investigation into Barr's handling of the report. They accuse Barr of misleading the public when he issued a four-page summary of it on March 24.
Late Tuesday, US media reported that Mueller had written to Barr to complain about the summary, saying it had had not fully captured "the context, nature, and substance" of his conclusions.